Villa Esther is a new, stylish, single-level, two-bedroom villa situated on the south coast of the beautiful, diverse island of Kefalonia. Located in the quiet, historic village of Pessada, bounded by olive trees and impressive views of Mount Ainos. This prime position offers the perfect escape from the hustle and bustle of everyday life.
Contemporary in design, the villa offers the perfect balance of warm Greek hospitality with modern pampering comfort. Conveniently set over one level, the villa allows for a natural breeze whilst capturing the light reflected from the refreshing pool, every element of Villa Ida has been designed for your comfort and relaxation.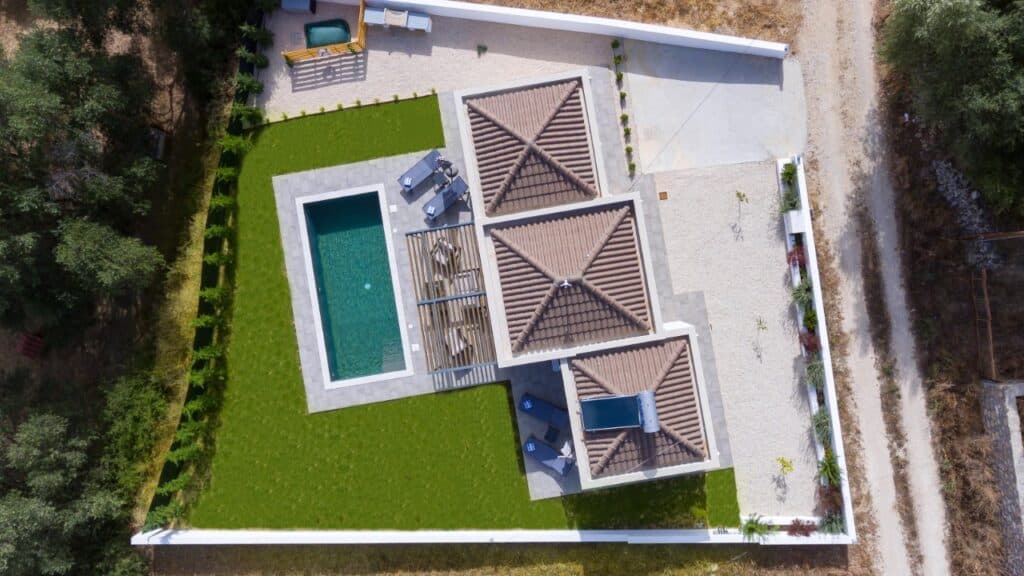 Your Dream
Dreams come in all shapes and sizes. Whether your ideal break involves lazy days by the pool, snorkelling in bio-diverse waters, sipping cocktails on the beach, soaking up the cultural sights, Villa Esther and the wonderful island of Kefalonia have got it covered!
Our Wish
We understand that every guests' perfect getaway is unique. If you are simply looking to relax and unwind and do nothing at all, have an action packed getaway or somewhere in-between, our wish at Villa Esther is that your Kefalonian dreams come true.
Your Hosts
Paula and Harry are your hosts at Villa Esther and together have a wealth of experience in the hospitality industry. After falling in love with the island in 2014 they have made it their mission to realise their dream and bring their passion for the island and industry to you!
Pessada is located 12 km east of Argostoli, the capital of Kefalonia and offers exquisite views over the natural bay and the small fishing boats that moor there. Tourist facilities are not available but there is enough space for parking. A path will lead you directly to the beach.
The place is ideal for relaxation and peaceful moments. This small wonderfully undeveloped bay consists of soft sand, crystal waters and rocks dotted around the bay. The bay is often very busy. Nearby, the Church of Estravromenos stands on top of the village.